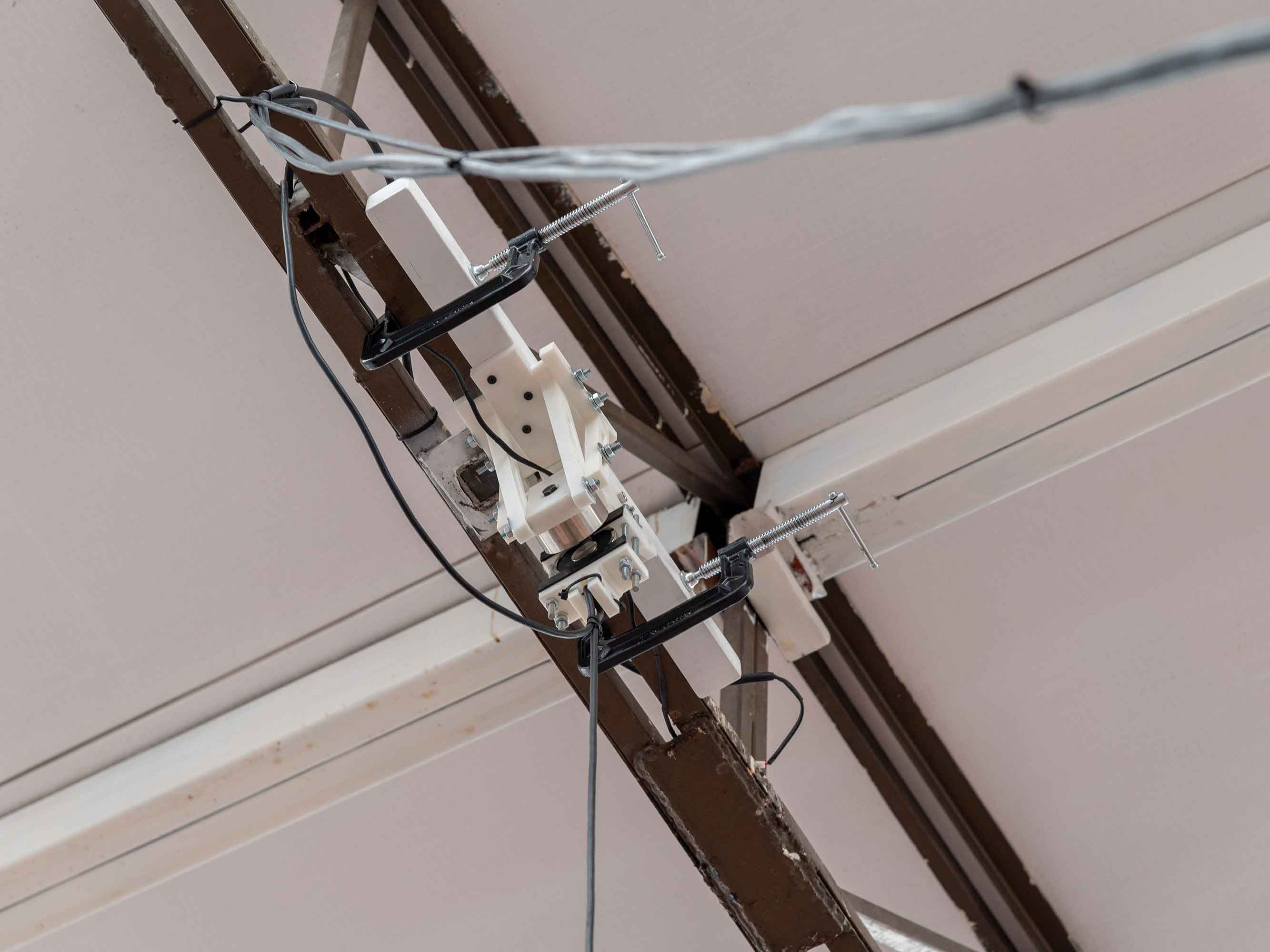 Cuando las cosas oscilan
Septiembre 2023
guadalajara90210
Guadalajara.
Curaduría por Alma Saladin y Marco Rountree
Cuando las cosas oscilan es porque están en movimiento, por eso me puse a escuchar diferentes jarrones de Tonalá, la forma en que responden a estímulos acústicos en una dinámica de retroalimentación. Cada pieza tiene una respuesta diferente, tanto en su frecuencia hertziana como en su estructura cíclica y de pulsos. A partir de estas respuestas, analizé su comportamiento observando la dinámica de onda en un osciloscopio digital, en un ejercicio que intenta comprender el comportamiento de las vibraciones dentro de formas semicerradas con interiores esféricos. Este trabajo me llevó a reflexionar sobre la voz y a pensar en la corporalidad de la voz. Al igual que los cuerpos resonantes de cerámica, la materia ósea y la caja torácica funcionan como resonadores de la voz, y el espacio, su densidad, forma y otras cualidades acústicas, son las que le dan identidad tonal a su sonido.
A partir de esta idea, dibujé los jarrones con la misma arcilla de la que están hechos; como lo hace la resonancia, en un juego entre reflejo y reposo. Cada uno de ellos responde en distintos estímulos hercianos: 1.2Khz, 1.1 Khz, 1Khz, 1.18 Khz, 1.16Khz, 1.7 Khz; y también repliqué su longitud de onda -escala 343 m/s- en el mismo barro de Tonalá.

Cuando las cosas oscilan se integra de cinco cuerpos cerámicos que expresan totalmente su estructura, activadas por un sistema pendular* que oscila dos metros generados por un impulso periódico de electroimanes. Una fuerza cinética en movimiento armónico simple para producir una respuesta sonora en armonía: la capacidad de resonancia de los jarrones bajo un estímulo en vaivén. Voz.


Ana Paula Santana
*El sistema de péndulo fue creado en colaboración con Edgar Mondragón.
Fotografías: Agustín Arce Figueroa.
---
Cuando las cosas oscilan (When things oscillate)

September 2023.
guadalajara90210
Guadalajara.
Curated by Alma Saladin and Marco Rountree.

When things oscilate it is because they are in motion, that is why I began to listen to different Tonalá vases, the way they respond to acoustic stimuli in a feedback dynamic. Each piece has a different response, both in its hertzian frequency and in its cyclical and pulsing structure. From these responses, I analyzed their behavior by observing the wave dynamics on a digital oscilloscope, in an exercise that tries to understand the behavior of vibrations inside semi-closed shapes with spherical interiors. This work led me to reflect on the voice and to think about the corporality of the voice. Like ceramic resonant bodies, the bone material and the ribcage function as voice resonators, and the space, its density, shape, and other acoustic qualities, are what give its sound its tonal identity.

Starting from this idea, I drew the vases with the same clay from which they are made; as resonance does, in a game between reflection and rest. Each one of them responds to different hertz stimuli: 1.2Khz, 1.1 Khz, 1Khz, 1.18 Khz, 1.16Khz, 1.7 Khz; and I also replicated its wavelength -scale 343 m/s- in the same mud of Tonalá.

Cuando las cosas oscilan (When things oscillate) is made up of five ceramic bodies that fully express its structure, activated by a pendulum system* that oscillates two meters generated by a periodic impulse of electromagnets. A kinetic force in simple harmonic motion to produce a sound response in harmony: the resonance capacity of the vases under a to-and-fro stimulus. Voice.

Ana Paula Santana

*The pendulum system was created in collaboration with Edgar Mondragón.
Photographs by Agustín Arce Figueroa.